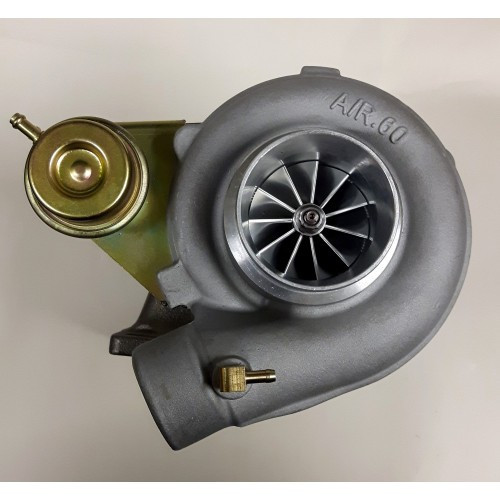  
TB58 Billet stage 2 Ported WG
Latest technology, 11 blades, exended tip, most badass you can find on the market!
Ported WG - Ported from 18mm to 26mm!
0,60 A/R
Inducer 58 mm
Exducer 70mm
TRIM 68
Inlet 2,5"
Outlet 2"
360 lager
Turbine: 0,63 A/R
T3 enkel (single)
flange Exducer (ut) 55 mm
Inducer 65 mm
TRIM 71
Outlet 2,5"
V-band Size:
Diameter 16cm
Length 25.5cm
wg 7 cm
TB58 Billet stage 2 with Ported WG! 550-600hp. Ported from 18mm to 26mm! Best flow with intern wastegate turbina on the market! Now try to find a better billet Turbina which also has 1 year warranty! 
All parts come from the same factories as well-known turbo brands.
All parts are extremely well balanced separately from the manufacturer
All our turbochargers assembled in our workshop!!!
Important! 2mm restrictor for oilfeed Minimum 16mm inlet size of the oildrain
You can find restrictor in related products down here: