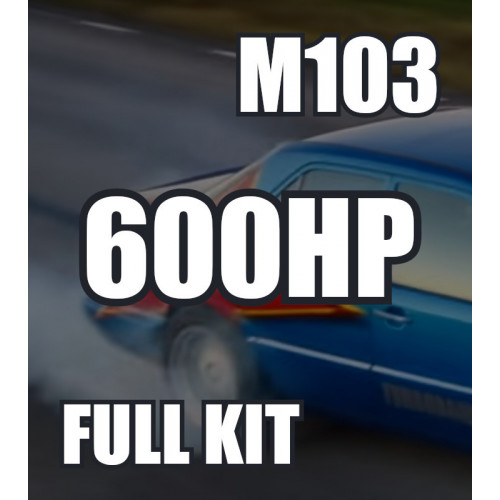  
Complete M103 (up to 600hp)
Turbokit complete M103 (up to 600hp)
Select your options and read the description!
Turbokit complete M103 (up to 600hp) includes:
Turbokit basic
Turbina
60mm wastegate
50mm BOV
Turbo manifold
Oil feed kit (5001)
The oil drain kit  (5007)
EFI kit
MS3X ECU 4 bar mapsensor + intern wideband lambda controller with much higher accuracy then other controllers on the market / Bluetooth
Knock sensor intern module with extremely high accuracy
Knock sensor Fuel pressure sensor with controlfrom the ECU Engine harness , custom made, soldered pins instead clamped like stock harness, waterproof!
Wideband sensor LSU 4.9
VR sensor
VR sensor bracket
Camshaft sensor
Camshaft sensor plate
Triggerwheel
Injectors 2200cc incl filters and adapters, perfect squrt at low RPM
6pcs injectorfilter adapters (long) 
Wasted spark racing coil
Racing spark cables Ignition coil bracket
CLT
TPS
IAT
Fuel pressure sensor
3 port boost controller soldenoid
Fuel kit
Basic fuel kit for running mercedes stock fuelpumps and fuel lines up to 500hp. Industrial teflon lined stainless steel braided hose ,can not even be compared to unreliable rubber hose and AN blue/red fittings! (5003)
 Fuel pressure regulator
1 meter from stock line to fuelrail AN6
1 meter from fuelrail to FPR
1 meter from FPR to stock line return
Intercooler 300x400x76
Oilcooler 15 row 
Oilcooler kit (5004)
Maximum RPM 6500
What do you need to do by yourself?
Weld intakes pipes, exhaust system and install M3X harness
Most important of all you need to find good tuner to make a perfect tune for your engine!
After we have received your payment, it takes about 2-3 weeks to manufacture all parts