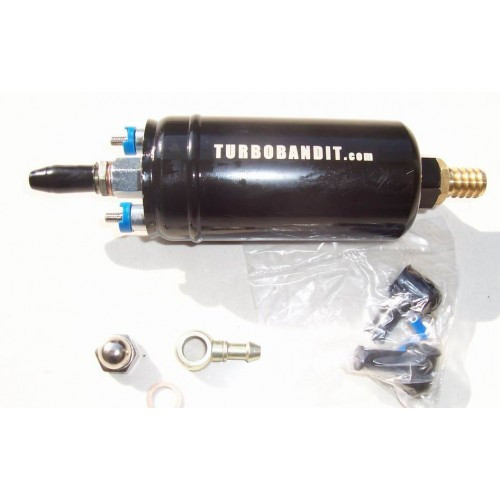  
Fuelpump TURBOBANDIT
3 bar = 410L / hr
5 bar = 350L / hr
7 bar = 310L / hr
CONNECTIONS:
M18 x 1.5 in M12 x 1.5 out
Strongest badass fuelpump type 044 on the market! Our goal was to produce a pump that was similar to the infamous 044 pump,
but the final result was surprising, the manufacturer had done a good job and it turned out to be even stronger.
Many cars got over 650HP++++ on E85 with only one pump!
800Hp++++ with petrol.
Important! Turbo Bandit fuel pump is stronger than a regular pump, it is stronger than a Bosch 044 pump, and thus requires more power.
A standard pump usually draw the max 10A, a Bosch 044 pump up to 15A and our pumps can pull over 20A.

So be sure to have enough rough electrical cables.

The size of the cable is at least 6mm, 30A relay per pump!
If you are running E85, it is important to use a proper fuel filter designed for E85.
Original filters will not work with E85 and will eventually restrict the flow!
We recommend our E85 filter See in related products below: